Lola Karimova-Tillyaeva's speech at international conference "The Central Asian Renaissance in the history of world civilization"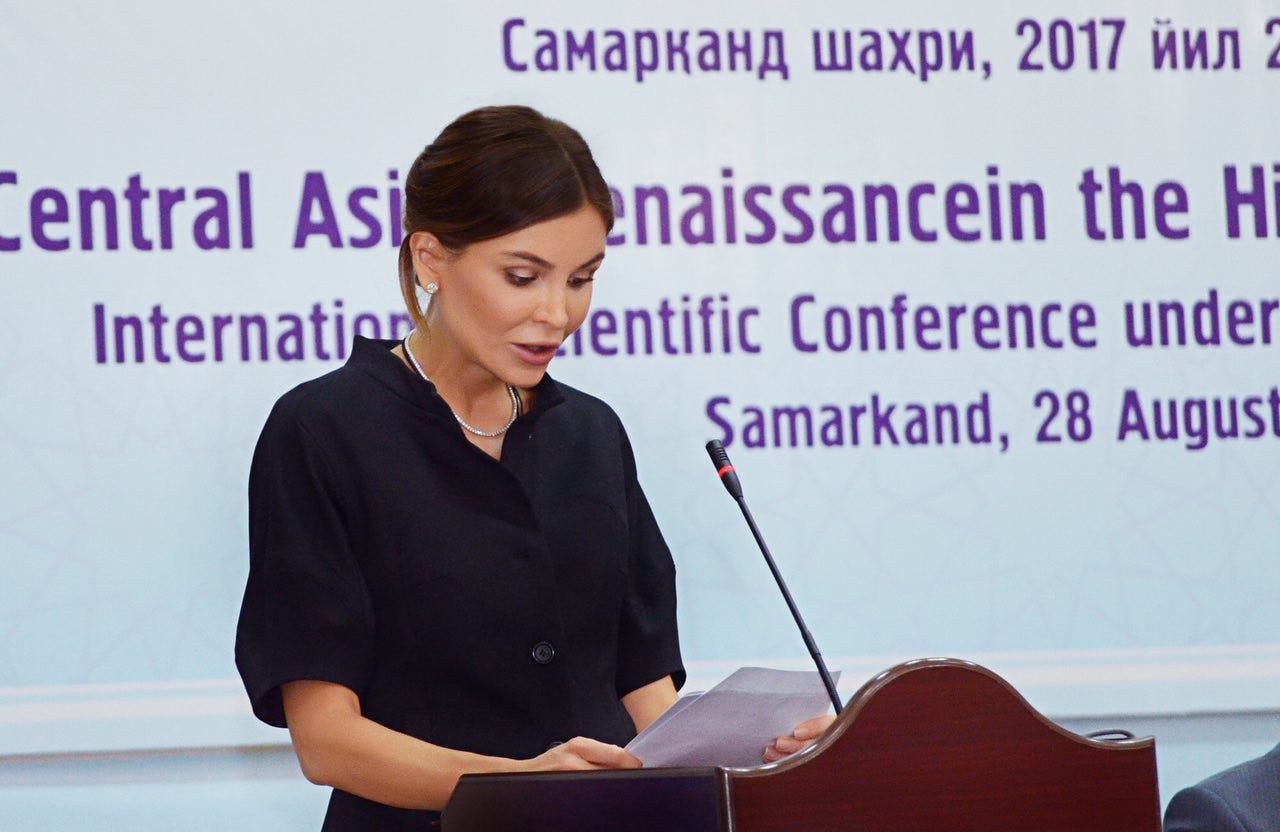 On 28-30 August Samarkand hosts the international conference, "The Central Asian Renaissance in the history of world civilization", which focuses on the scientific and creative legacy of great scientists and scholars belonging to the epoch of the Eastern Renaissance, and the UNESCO international seminar, "Great moments of dialogue in human history: assessment, lessons and prospects", which deals with a truly visionary UNESCO project – the publication of a comprehensive series of general and regional histories. The conference is attended by over 200 participants from across the world, including international organizations such as the OIC, ISESCO, the UNWTO and others.
The Permanent Delegation of Uzbekistan to UNESCO is one of the initiators and organizers of these events, which aim to raise awareness of Central Asia's important contribution to world civilization.
The following is text of Lola Karimova-Tillyaeva's speech at today's conference: 
Dear Ladies and Gentlemen,
On behalf of Uzbekistan's Permanent Delegation to UNESCO, I am very pleased to welcome you today in the ancient city of Samarkand, a World Heritage Site steeped in history, serving as a focal point for cultural exchange and a symbol of intellectual achievement.
Uzbekistan's Permanent Delegation to UNESCO is very honoured to have been one of the initiators and organizers of this conference, which will once again shed much-needed light on great Central Asian scholars and their groundbreaking contributions to world civilization.
Now I would like to mention a project of great importance to our Permanent Delegation, which has been implemented here, in the city of Samarkand.
Over the past year, our Permanent Delegation has worked in close liaison with UNESCO's World Heritage Centre and the International Council on Monuments and Sites to build a mausoleum on the burial site of the founding father of Uzbekistan's state independence, Islam Karimov. We are glad that, as a result of this cooperation, we have managed to ensure that all the work undertaken is strictly in line with UNESCO's criteria and recommendations. The mausoleum, which embodies the best elements and traditions of Central Asian architecture, will be inaugurated on September 2nd, the first anniversary of my father's death.
Upon the completion of several ongoing UNESCO projects, in the near future, I plan to step down from my role as ambassador, in order to focus on my family, personal goals, programmes being implemented by the Islam Karimov Foundation, as well as our team's other creative, cultural and charitable projects.
My service as ambassador has been an extremely enlightening and challenging experience. I am very grateful for these 10 years, during which I have worked alongside some of the best minds from around the globe and have once again become convinced that the beauty of the world lies in the diversity of its people, and that the strength of mankind and its future lie in its aspirations to greater unity and solidarity.
I would like once again to emphasise the importance of the work carried out by UNESCO to preserve the identity of different cultures, by showcasing their beauty and revealing their intellectual horizons through the preservation and appreciation of the experience of past civilizations or the heritage of ancestors in "living form" as an intangible legacy.
I am very happy that I have been able to gain broad experience of working at this truly fascinating and inspiring organization.
Of course, it is impossible to encapsulate in one speech all the projects implemented by our Office in the past decade. Therefore, I would like to highlight some of our team's major accomplishments in promoting and safeguarding Uzbekistan's rich cultural and historical heritage.
Since 2008, when our Permanent Delegation started its work, the following elements of Uzbekistan's cultural heritage have been inscribed by UNESCO on the list of the intangible cultural heritage of humanity: The cultural space of Boysun, the Katta ashula traditional song genre, the classical music tradition of Shashmaqam, the Navruz spring festival, the verbal folk art of Askiya as well as the traditions of the Uzbek signature dish palov.
Last year, the Western Tien-Shan, one of the largest mountain ranges in the world, which spans three countries – Kazakhstan, Kyrgyzstan and Uzbekistan – was declared a World Heritage Site.
All these events play a key role in strengthening social ties, promoting the values of solidarity and unity, and assisting in the continuity of the local traditions that form part of our country's cultural identity.
Our Permanent Delegation is currently seeking to include the traditional methods of Uzbek silk-weaving, Ikat, in the UNESCO Register of Best Safeguarding Practices.
As part of our efforts to raise international awareness of the Uzbek ikat tradition, we, with the Islam Karimov Foundation, organized an 18-day-long exhibition in Tashkent called, "The thread uniting generations", which aimed to popularize the unique art of silk weaving using examples of the creative legacy and present activities of the outstanding master weavers of Margilan in eastern Uzbekistan.
With a view to preserving the traditional art of Uzbek silk weaving, the Permanent Delegation and the Islam Karimov Foundation have together published a book entitled, "The Renaissance of Uzbek Silk". This book, published in four languages – English, French, Russian and Uzbek –  traces the history of silk manufacturing in Uzbekistan from its mythical beginnings to the magnificent innovations of today's skilled master weavers and designers. We are delighted to present these books to you today.
Publishing  has been a staple of our work in the past 10 years.
One of our most recent publications is an exquisite colouring book entitled, "Uzbekistan. An Experience of Cultural Treasures to Colour", which provides a sweeping exploration of Uzbekistan's rich cultural heritage, taking us from fifth-century architecture to modern-day artists and introducing the reader to some of the world's most magnificent architectural monuments in Samarkand and Bukhara, from palaces to mosques, madrasahs and mausoleums.
We have also paid great attention to programmes to enhance the visibility of Uzbek authors and promote Uzbek literature globally by granting financial assistance for the translation of works of both classical and contemporary literature.
In 2015, with the Permanent Delegation's support, a number of literary works by one of the most influential representatives of contemporary Uzbek literature, Erkin Azam, were translated into English and French.
Currently, with the Islam Karimov Foundation, we are also backing projects to translate novels by influential Uzbek writers and intellectuals such as Abdullah Qadri and Abdulhamid Cholpon.
I would like to list here very briefly some of the many other projects that we have implemented. These include the publication of catalogues of paintings by contemporary Uzbek artists; dozens of cultural events including exhibitions of works by both prominent and emerging Uzbek artists and photographers; presentations of Uzbek cinema; a range of international conferences to pay tribute to great Central Asian scholars; and the production of documentaries exploring the life of the great physician and polymath Abu Ali ibn Sina, better known in the West as Avicenna, and the one of a 15th century astronomer and ruler of Samarkand, Mirzo Ulugh Beg.
I have always firmly believed that education and culture are key factors in promoting peace and tolerance, and that they function as a bridge between civilizations, helping to overcome ignorance and stereotypes.
I am extremely proud that I have had the great honour of serving my country at this international organization, which does a truly remarkable job in safeguarding cultural heritage and leading humanity towards progress by promoting scientific cooperation, freedom of speech, peace and sustainable development.